2023 Alumni Profile: Heather Andress
Heather Andress is the Deputy Chief Counsel for Region 14 with the Indiana Department of Child Services (DCS). She graduated from IU in 2008 with a Bachelor of Arts in Criminal Justice and a minor in Sociology. Since graduation, Heather has found and followed her passion helping children and families. "Returning to DCS as an attorney has given me the fulfillment of making a difference in my community, helping children and families, and practicing law in a meaningful way."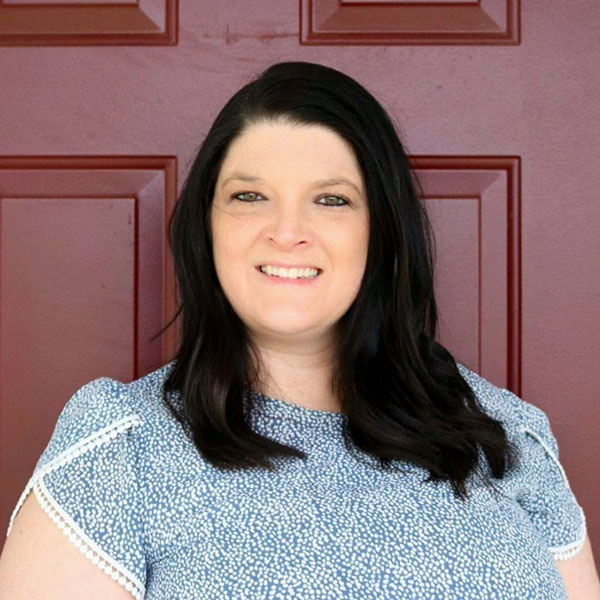 Heather's career started as a Family Case Manager with the Indiana DCS, investigating reports of child abuse and neglect, attending court hearings with families involved with DCS, and managing cases while rehabilitating families and children. In 2012, she left to attend law school at North Kentucky University where she also participated in a Children's Law Clinic representing youth in special education cases and juvenile delinquency matters. She remained as a fellow with the Center until she received her Juris Doctor Degree in 2015. Admitted to the Kentucky Bar, Heather spent a brief time handling custody and divorce matters in private practice. Her connection to Indiana was strong and, after being admitted to the Indiana Bar in 2017, she returned to DCS as an Adoption Assistance Negotiator. In 2018 she was given the opportunity to return to her hometown and became a Local Office Attorney in Region 14 and was promoted to Deputy Chief Counsel for the region in 2021. Heather says, "As a Deputy Chief, I train new attorneys and Family Case managers on the legal matters applicable to their jobs. I provide support and coaching to our legal assistants and attorneys within the Region, which includes five counties (Bartholomew, Jackson, Jennings, Johnson, Shelby)."
2023 College of Arts + Sciences Distinguished Alumni Shontrai D. Irving
Shontrai D. Irving, B.A. '97 (Afro-American Studies, Criminal Justice), M.A. '03 (Criminal Justice), J.D. (Maurer School of Law) was honored as the College of Arts + Sciences 2023 Distinguished Alumni Award recipient. The Indiana University College of Arts and Sciences alumni awards are given to alumni of the College whose exceptional achievements demonstrate the distinct principles derived from a liberal arts and sciences education.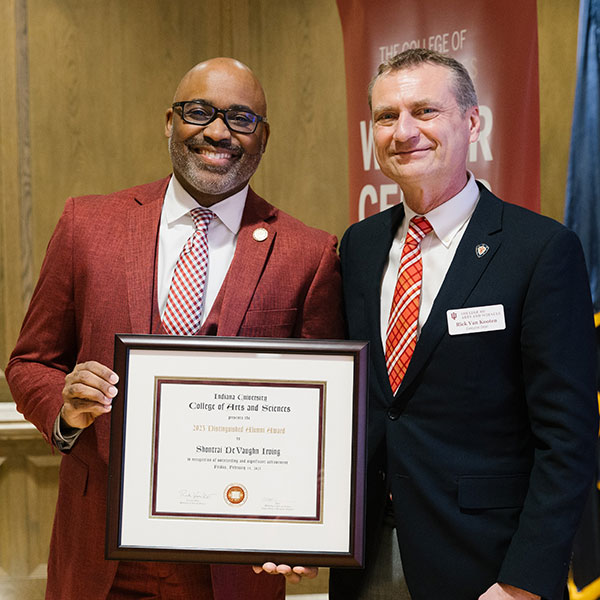 Shontrai was honored during the Connect '23 Conference in February. Shontrai is a Clinical Associate Professor of Business Law at Purdue University Northwest and is a practicing attorney in Indiana and Illinois. Shontrai was previously named a Sagamore of the Wabash by Governor Eric Holcomb for his career as an attorney, involvement with the local community and academics, and role as a foster parent. The Sagamore of the Wabash is one of the highest civilian honors bestowed by the sitting Indiana Governor in recognition for service to the state or the governor. Shontrai is a single adoptive parent who has advocated for foster children for the last 20 years and was named Indiana's 2007 Foster Parent of the Year by the Indiana Foster Care Adoption Association. He has received many additional accolades and awards from both local, state, and national organizations.
2023 Connect Conference Panel
Criminal Justice alumni came back to campus for the 2023 Connect Conference Panel, Criminal Justice: It's Not All Law & Order, to discuss the diverse career opportunities in the public and private sectors with a Criminal Justice degree. It was great to have them speak to the students!
Sean Esters (BS'09, BA'09), Business Development - Salesforce
Jill Lees (BA'95), Chief of Police, IUPD – Bloomington Division
Joey Montgomery (BA'15, BS'15), Attorney, United States Courts
Felicia Patel (BA'17), KPMG Senior Associate