Undergraduate Happenings
Undergraduate students in the Department of Criminal Justice stay active and engaged in many ways.
2022 Skip Elliott Networking Night
Undergraduate students from a variety of majors joined professionals from local, state, and federal organizations for the 2022 Skip Elliott Careers in Criminal Justice Networking Night. Students and invited guests enjoyed dinner with informal conversation and then the event transitioned into a version of "speed networking" where each student had the opportunity to interact with the professionals in an interpersonal setting.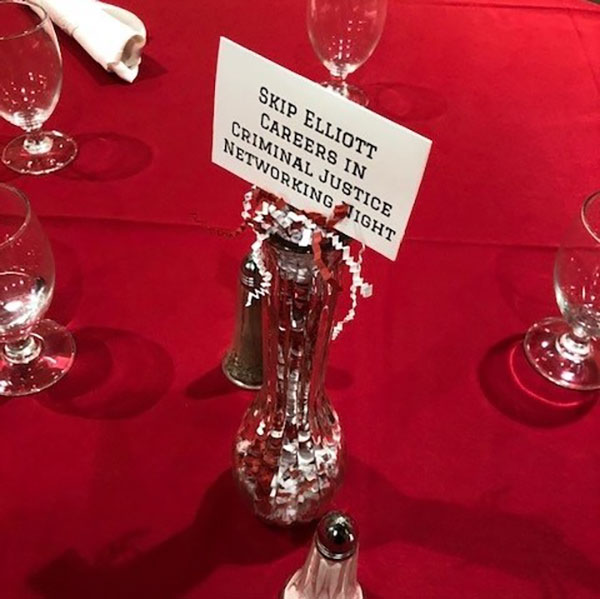 Agencies represented were the Monroe County Department of Child Services, IU Maurer School of Law, Indiana State Police, IU Criminal Justice Graduate Students, IU Police Department, Monroe County Probation, IU Peace Corps Office, Target Security Corporation, Ireland Based Home Services, Bloomington Police Department, and the Middle Way House. If your organization is interested in participating in future Networking Nights, please contact Andy Bloomgarden.
Congratulations to the Class of 2023!
Congratulations to the 119 undergraduate students who earned their Bachelor of Arts degree in Criminal Justice from Indiana University! Additionally, 55 graduates earned a minor in Criminal Justice, and 2 graduates earned the Criminal Justice Certificate. It has been our pleasure to teach and support these students during their time at IU. Go Hoosiers!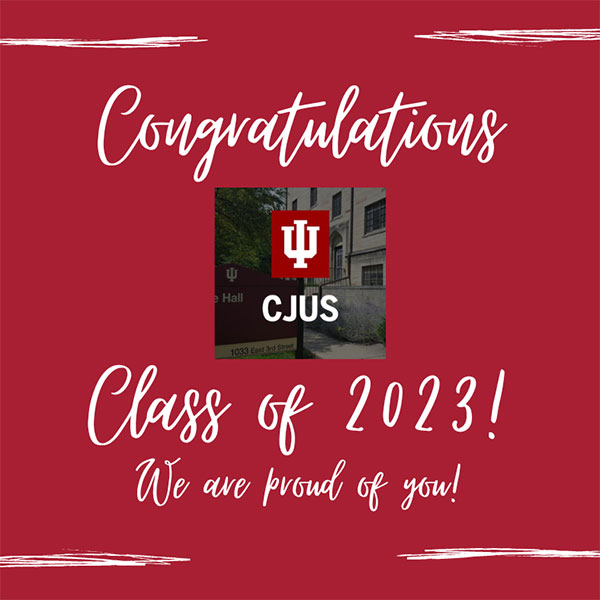 This graduating class includes:
Phi Beta Kappa members: Karlie Bullard, Brittney Day, Jessie Marji, Olivia Meeker, Sonomi Okazaki, Brandon Richter, Jordan Rothrock, Jocelyn Vanek. Phi Beta Kappa honor society is considered the highest honor an undergraduate can achieve in the Liberal Arts and Sciences.
Alpha Phi Sigma members: Zoe Hailstone, James Jackson, Beau Meuris, Abby Novotny, Madison Rudick, Emily Uthe, Jocelyn Vanek. Alpha Phi Sigma is the national criminal justice honor society. Eligibility is based on academic success in criminal justice and undergraduate work.
Department of Criminal Justice Senior Award Winners:
James Jackson, Writing Excellence Award. This award is given in recognition of outstanding written work in criminal justice courses.
Abby Lambert, Bill Selke Heart of Justice Award. This award recognizes outstanding effort in service and leadership to a senior who strives to better local, national, or international communities.
Karen Galvan, Distinguished Hoosier Award. This awardee is selected by our department advisors in recognition of academic excellence, self-reliance, perseverance, and commitment to excellence.
Abby Novotny, Outstanding Senior Award. This award recognizes outstanding work by a senior in the Department of Criminal Justice.
The Criminal Justice Student Association
The Criminal Justice Student Association (CJSA) is open to any IU student who has an interest in criminal justice issues. The CJSA meets once a month during the academic year and arranges guest speakers, volunteer and community outreach events, and social gatherings such as watch parties. This year the CJSA was able to restart tours of the Plainfield Correctional Facility with advisor Andy Bloomgarden, Department Chair Natalie Hipple, and Assistant Professor Bonnie Ernst. Follow the CJSA on Instagram @cjsaiu.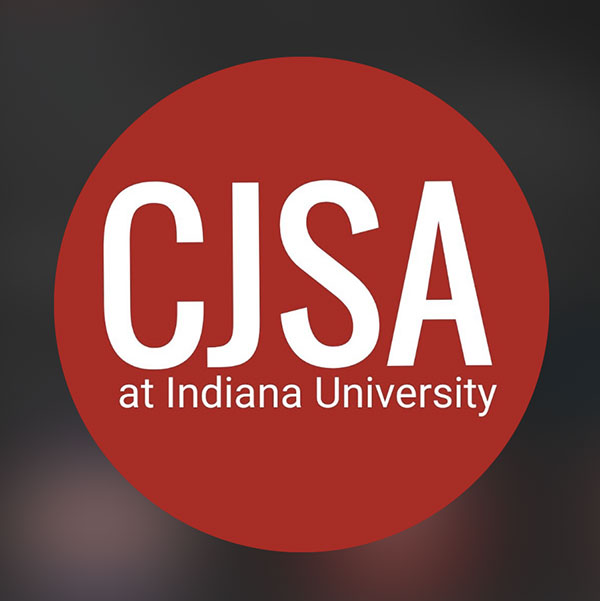 Marvin W. Dexter Scholarship
The Marvin W. Dexter Scholarship for 2022-2023 was awarded to Dayonna Cunningham. The Dexter Scholarship is in remembrance of Marvin Dexter, who completed his Indiana State Police Academy training at Indiana University and embodied our departmental mission to educate and empower students in service to the community, social justice, and fairness. Eligible scholarship recipients are first generation college students who are pursuing a B.A. in Criminal Justice at the Indiana University Bloomington campus. The Dexter Scholarship is awarded at the end of the academic year for the upcoming year.